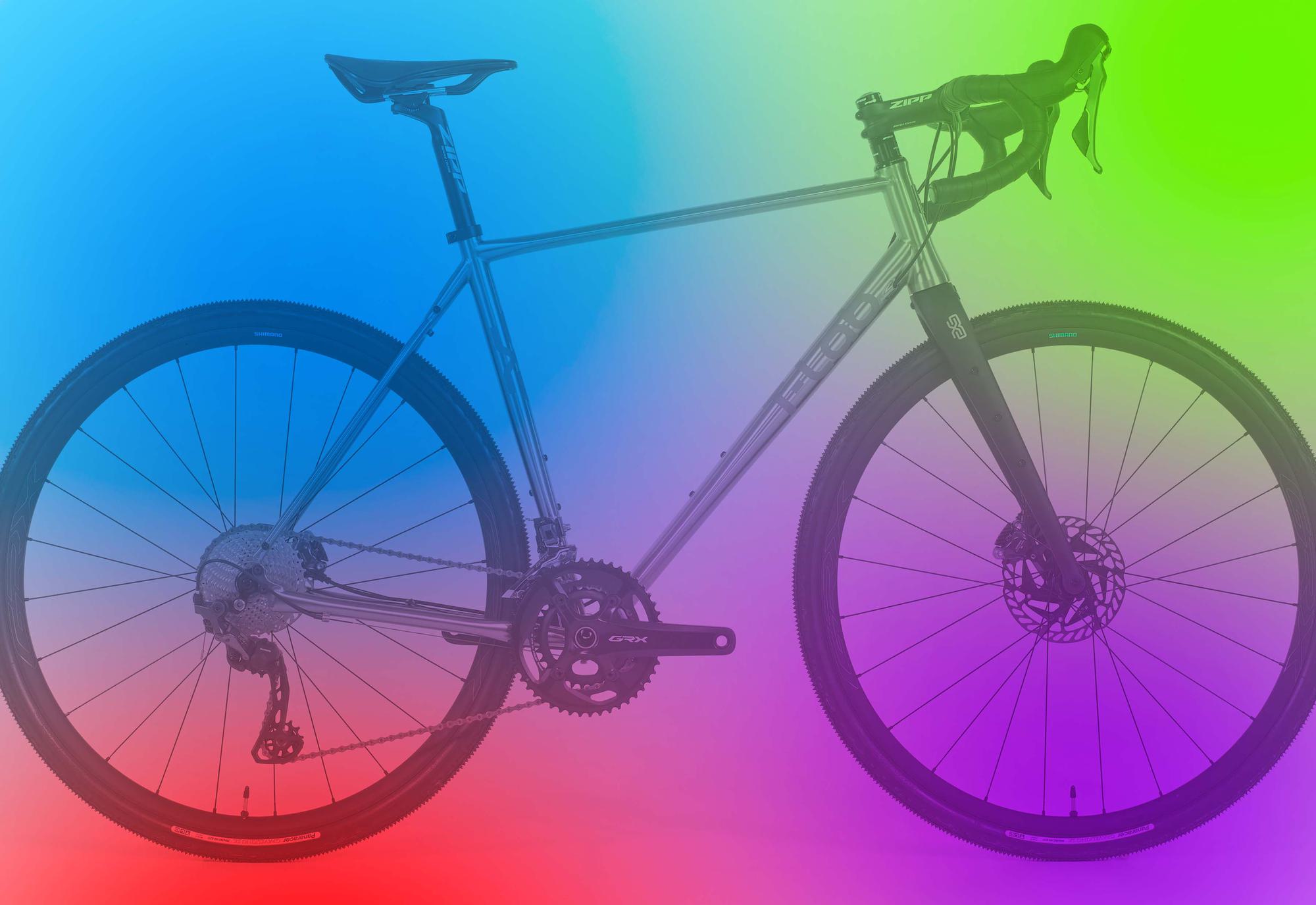 TITANIUM BIKE – BACK TO THE FUTURE
How the Gravel Bike Is Bringing Cyclists Back to Ti
Full disclosure: the author of this post is the proud owner of a titanium bike and a fan of all things Ti. When I joined forces with some like-minded people to start a bicycle frame-making company, we made the conscious decision to focus on titanium because of this premium metal's exceptional properties. Our mission from Day 1 was to take this remarkable material and take it to the next level of cycling performance. We've been fortunate to connect with – and even create – more and more Ti fans since then, but it hasn't necessarily been easy. In fact, it's been a bit of a crusade. To quote one of the retailers who respectfully declined to carry our bikes early on, "The material conversation is over. Carbon won." That was essentially the mindset in mainstream cycling circles not so long ago. The inherent stiffness-to-weight advantage offered by carbon fibre allowed this composite to dominate high-end bike considerations. Thankfully for those of us who believe premium quality should include notions of durability and sustainability, the omnipotence of carbon bikes appears to have run its course. Some significant developments have fueled this evolution:
Carbon's Lifecycle
What was once the futuristic alternative has become the going rate. Most serious cyclists today have owned more than one carbon bike. In so doing, they've experienced both the good (lightweight / performance characteristics), the bad (a relatively "dead" riding sensation) and the ugly side (it can crack at the most inopportune moment) of a carbon frame. The drawbacks of thermoset carbon, most notably the fact that it's relatively brittle to impact, has led an increasing number of passionate riders to seek alternatives. Like young music lovers opting for vinyl records because of a "warmer", higher quality sound, some of these bike connoisseurs are turning to the metal classics for a superior ride quality and a longer-lasting experience.
Progressive Ti
The emergence of progressive titanium manufacturers, who are now offering shapely bike frames with beefed-up intersections, has pushed titanium bikes forward, delivering performance characteristics on the level of high-end composites. While many cyclists are curious about the legendary ride quality of titanium bikes, nobody wants to compromise on responsiveness and handling to experience it. Next generation Ti frames now allow riders to enjoy the best of both worlds.
The Rise Of Gravel Cycling
Every new movement needs a spark. For titanium bikes, much of the newfound interest is being triggered by the growth of gravel bikes. Consider a cycling discipline that puts the emphasis on long-distance comfort over bumpy terrain instead of ultra-light construction. Where frame toughness is key, given higher levels of impact. A type of bike that is ideally suited for travel, as it is the most versatile two-wheeled machine. All of these factors are out of carbon's wheelhouse; they underlie the quest for alternative frame materials.
So, what are the alternatives? Aluminum bikes are generally affordable and offer great performance for the buck. That said, an aluminium frame has a limited lifespan (5-10 years) and typically offers a relatively harsh ride. Not exactly what you're looking for when you're riding over rocks. Steel bike lovers swear by the comfort and durability these classic bicycles provide. On the flipside, steel tubes tend to be relatively heavy and can, of course, corrode over time. Which brings us to the 22nd element. We'll quote our fellow Canadian and bike connoisseur, Matt Surch, of Tekne Cycling to kick things off in that regard…
"I think of titanium as the highest performing material when it comes to considering all of the relevant aspects."
In making a better gravel bike, those particular aspects are numerous:
Impact Resistance / Longevity
Gravel bikes are generally subjected to more rocks, branches, tumbles, nasty airline workers, etc… than a road bike. You need a frame that can take a licking and keep on going. Titanium is the toughest bike frame material, bar none. What's more, a Ti frame does not fatigue over time.
If you are the type of bike lover who keeps their rigs a long time, – and given the cost of a good bike today, you should be – you're going to have a penchant for what titanium is about.
Comfort / Ride Quality
The natural resiliency of titanium leads to a lively yet forgiving ride feel that is particularly well-suited to the longer, rougher nature of a gravel ride.
Capacity To Carry
One of the most recent tendencies in cycling is bikepacking, with all-terrain riders self-sufficiently lugging what they need on their bike to augment the adventure. Think of it as lightly-loaded bike touring over shorter distances. Where composite frames are significantly limited in this regard, a titanium bike frame can safely integrate as many mounts as desired to optimize what you're packing on two wheels.
Frame Sizing (Customization)
A gravel bike features wider tires; that's one of the key distinctions versus a road-specific model. When looking at smaller-sized frames, that larger tire size can lead to more of an overlap issue than normal. While carbon frames are generally available in standard, off-the-shelf sizes, a titanium frame is often made-to-order, allowing for geometric adjustments to alleviate toe overlap and otherwise dial-in you sizing perfectly. This customization aspect is a big plus if you tend to fall somewhere between standard frame sizes. It's even more important for those who, through experience, have figured out the exact dimensions they need to pedal faster and longer on and off-road.
Corrosion-Proof / Longevity
No discussion regarding titanium bike frames is complete without mentioning the fact that Ti doesn't rust and is pretty much impervious to the elements. This obviously matters more for a gravel bike, as it will be exposed to more varied conditions and abuse over its lifetime. Given what you're going to spend in this day and age to acquire any good gravel bike, having one whose frame is weather-proof and built to last a lifetime is a wise investment.
When you take all pertinent factors into account, it becomes apparent why those in the know are increasingly opting for titanium when acquiring a gravel bike. It offers the best all-around performance and value over the long-haul. Given its exceptional longevity and typically local provenance, it also happens to be the most sustainable bike purchase you can make today to ensure a better tomorrow.