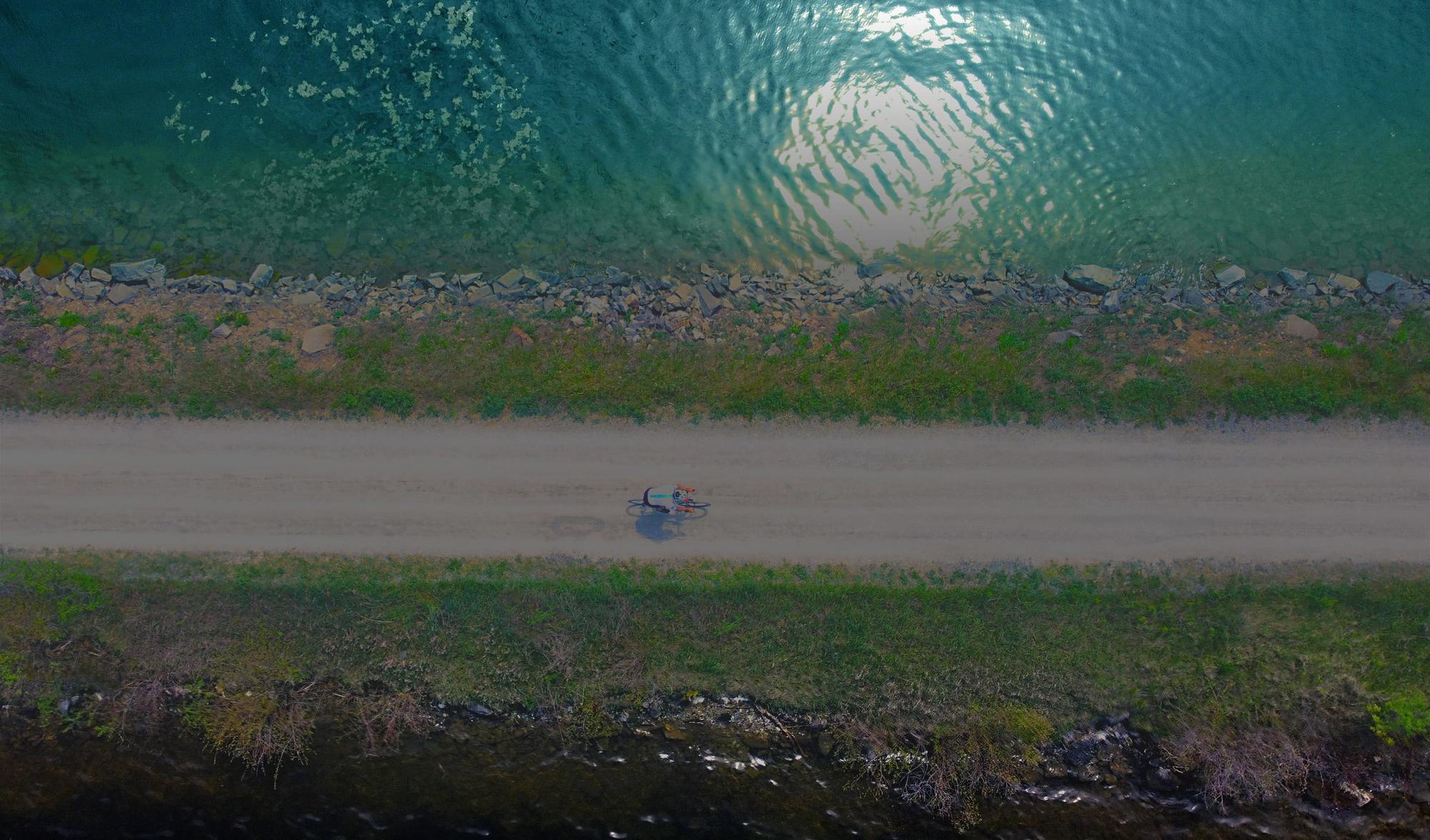 Titanium Gravel Bikes
Underlying the growing popularity of gravel bikes are the aspects of versatility and adventure. With a properly designed bicycle frame and the right components — including disc brakes and wider tires — you will be free to take on whatever road you choose, on and off the pavement. When going off the beaten path, impact resistance and durability become even more important considerations. That's why gravel bike connaisseurs tend to prefer the everlasting ride quality of titanium frames. The best titanium gravel bikes are all-around performers, combining power transfer, agility and riding comfort, as well as offering superior traction and stability on any surface.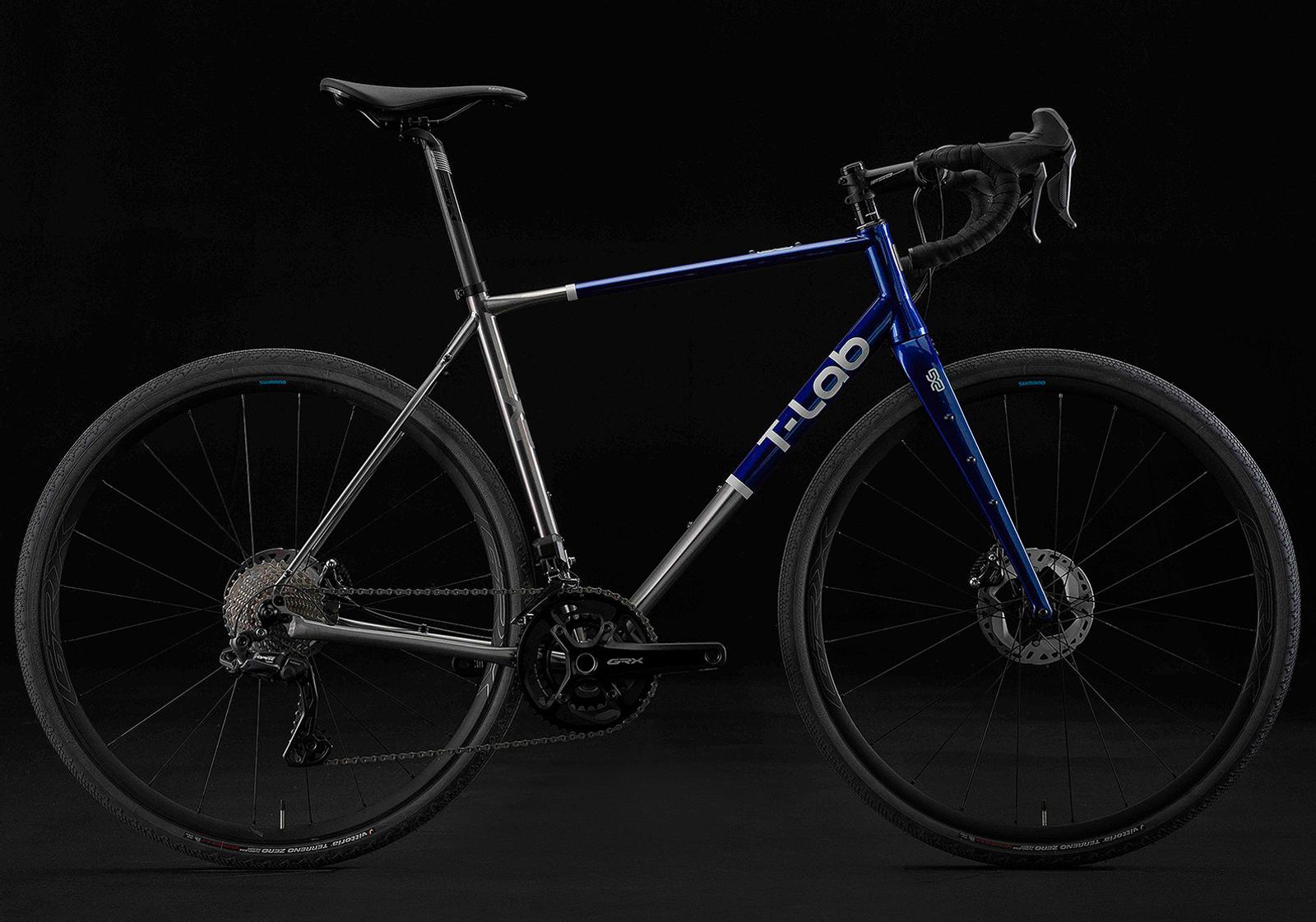 2023
T-Lab X3
Frameset starting at
$4,750
Complete bike starting at
$5,950
Our contribution to the progression of gravel bikes continues to set the standard for all-terrain performance, ride quality and durability. Unsurpassed Ti responsiveness meets long-distance comfort and big-time tire clearance (up to 700x45c). Remarkable manoeuvrability in the corners and stability in descent, now available with complete bikepacking capabilities. The one Gravel Cyclist calls "the best overall riding titanium bike on the market", made to your exact specifications. Nothing can be better.
Pressed for time?
Get a personalized quote
straight from the source.
ROB ROSSI Co‑Founder
Key Features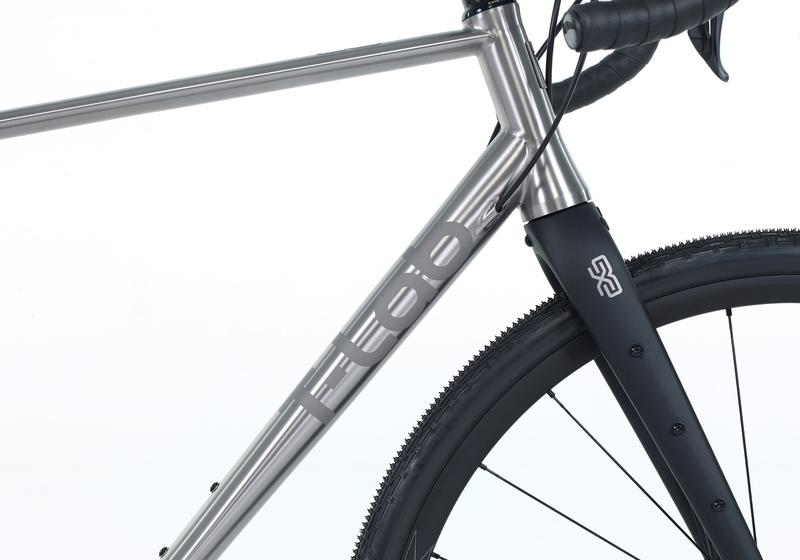 Proprietary Ti Shaping
Unique forming capability produces an exceptionally profiled titanium frame that delivers 30% more lateral stiffness and related performance versus leading round-tube Ti frames.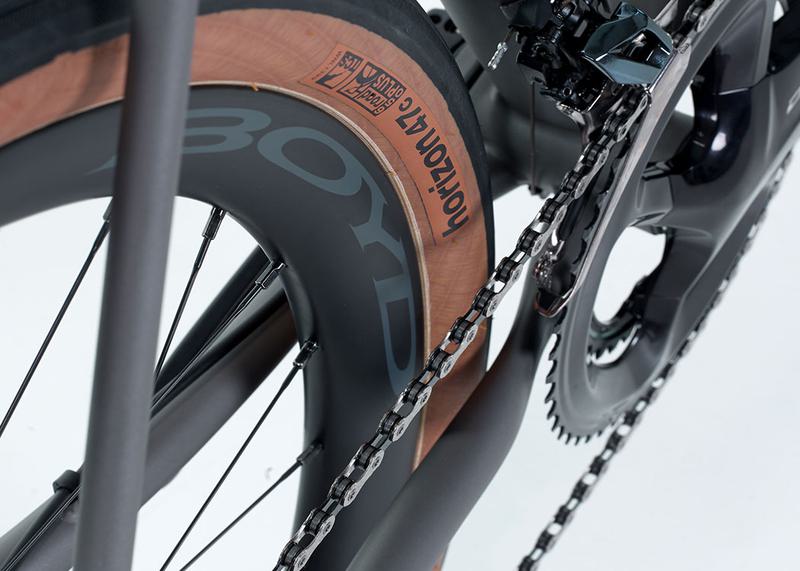 Mega Wheel Clearance
Compact back triangle accommodates tires up to 700X45c and 650BX51.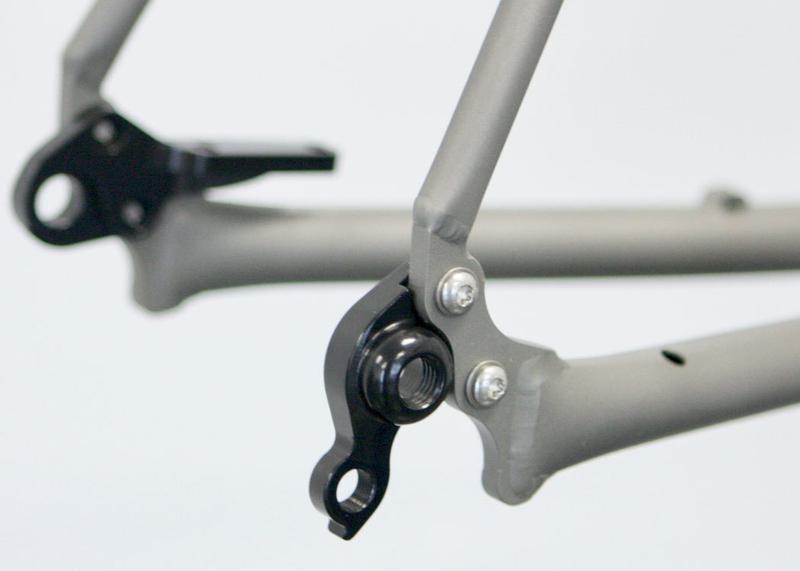 T-One Dropout
Exclusive, future-proof design offers an exponential advantage with regards to stiffness, shifting precision and adaptability.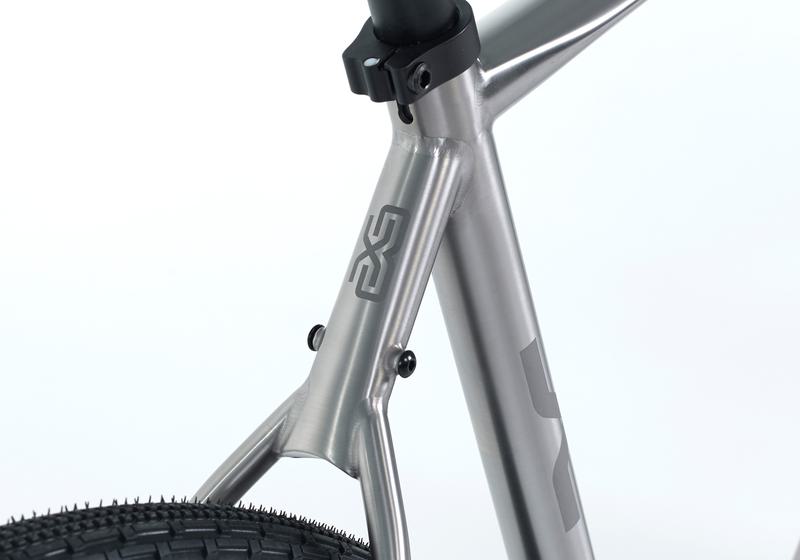 T-Bone SS
Reimagined, singular seat stay design augments torsional stiffness of the back triangle, enhancing responsiveness while optimizing vertical compliance.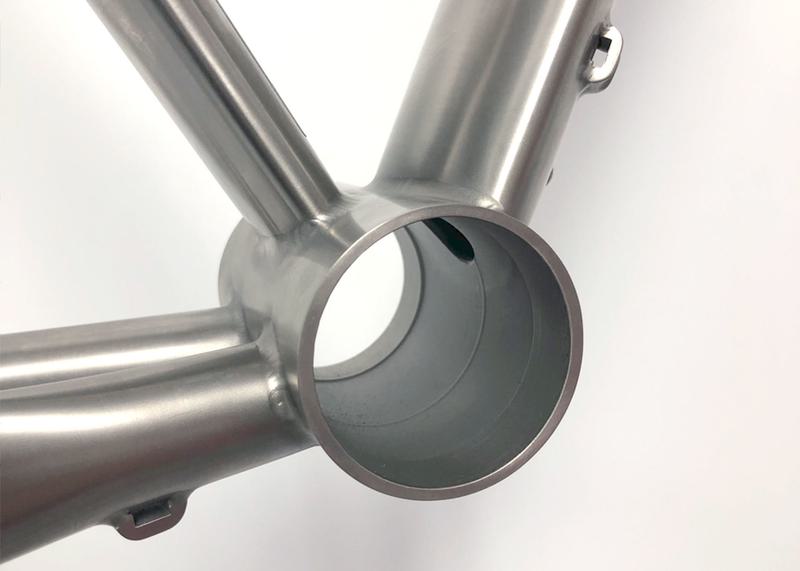 Quietly Strong BB
BB-386 titanium bottom bracket shell optimizes lateral stiffness where it counts. T-Lab's meticulous post-machining ensures a "creak-free" ride.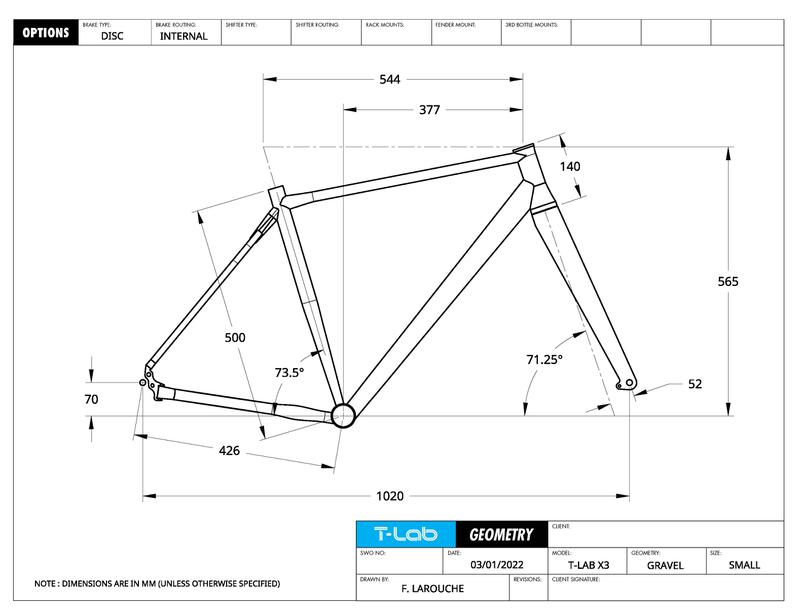 Dialed-In Geo
Optimized geometric configuration delivers enhanced performance, ride quality and versatility.
X3 frameset*: CA$4,750
X3 complete bike, featuring:
SHIMANO GRX600 2X (RX600 - 11sp)

CA$5,950

SHIMANO GRX (RX 812-11sp) 1X

CA$6,850

SHIMANO GRX (RX 810-11sp) 2X

CA$6,850

SHIMANO GRX Di2 (RX 815-11sp) 2X

CA$7,750

CAMPAGNOLO EKAR 1X

CA$7,550

SRAM Force (AXS) E-TAP 1X

CA$7,750

SRAM Force (AXS) E-TAP 2X

CA$7,950
*Includes fork and headset and thru-axels
Average Frame Weight: 1280g (S)
Headtube: IS41/28.6 - IS52/40 (Integrated/Tapered)
Seatpost: 27.2mm (31.8mm seat clamp)
Front Derailleur: "Braze-on" type
Bottom Bracket: BB-386
Dropouts: 142x12mm axle flat mount with disc brake
Fork: 1.5" tapered steerer, 403mm axle-to-crown, 52mm rake, 12x100mm thru-axle
Wheel Size: 700c or 650B
Maximum Tire Width: 700x45c or 650Bx51 (tire width may vary depending on manufacturer and tire pressure)
Available in Gravel / Adventure geometry in the following standard sizes: XS, S, M, L, XL
Custom geometry / sizing also available ($600 CAD upcharge)
Frame compatible with all Shimano, SRAM and Campagnolo groupsets featuring disc brakes
Lifetime warranty (against manufacturer's defects)
Frame Size
Unit
XS
S
M
L
XL

Average Cyclist Height

(equiv.) ft-in

(52): 5'-1" to 5'-4"

(54): 5'-5" to 5'-8"

(56): 5'-9" to 6'-0"

(58): 6'-0" to 6'-4"

(60): 6'-4" to 6'-6"

Standover Height

mm

752

778

804

830

847

Seat Tube Angle

deg

73.5

73.5

73.5

73.5

73.5

Seat Tube Length (center-to-top)

mm

470

500

530

560

580

Top Tube Length (horizontal)

mm

527

544

562

584

606

Head Tube Angle

deg

70.5

71.3

71.5

71.5

71.5

Head Tube Length*

mm

120

140

160

180

200

Frame Stack

mm

543

565

585

604

623

Frame Reach

mm

366

377

389

405

421

Bottom Bracket Drop

mm

70

70

70

70

70

Fork Rake

mm

52

52

52

52

52

Front Center Distance

mm

593

604

620

642

665

Trail

mm

71

66

64

64

64

Chain Stay Length

mm

426

426

426

426

426

Wheelbase

mm

1009

1020

1036

1059

1081

For XXS and XXL orders, contact us for custom sizing
Measurements provided based on use of 700x42c tires.
*Head Tubes are (Integrated/Tapered) IS41/28.6 - IS52/40

SHIMANO GRX600 (RX600-11sp) 2X
SHIMANO GRX (RX 812-11sp) 1X & (RX 810-11sp) 2X
SHIMANO GRX Di2 (RX 815-11sp) 2X
CAMPAGNOLO EKAR 1X
SRAM FORCE AXS e-Tap 1X
SRAM FORCE AXS e-Tap 2X

Groupset*

Dual Control Levers

ST-RX600

ST-RX810

ST-RX815

EP21-EKD13

ED-FRC-D1

Front Derailleur

FD-RX810

FD- RX815

-

FD-FRC-E-D1

Rear Derailleur

RD-RX810

RD-RX810(2X), RD-RX812(1X)

RD-RX815

RD21-EK13

RD-FRC1-E-D1

Cassette

CS-HG700

CS-M8000 (1X), CS-HG800 (2X)

CS-M8000, CS-HG8000, 11-34t(2X)

CS21-EK13

CS-XG-1271-D1

Chain

CN-HG-601

CN-HG601

CN-HG701

CN21-EK13ML

CN-FRC-D1

Crankset

FC-RX600

FC-RX810-1, FC-RX810-2

FC-RX810

FC21-EK13

FC-FRC-1-D1

Bottom Bracket

FSA-BB386

IC21-PRBB386

SRAM DUB BB386

Brakeset

RX-RX400

BR-RX810

EP21-EKD13

ED-FRC-D1

Centerlock Rotors

SM-RT70 - 160mm

RT-MT800 - 160mm

DB-1605 - 160mm

RT-CLX-R-A1-160mm

Wheelset & Tires*

Wheelset

BOYD GVL

Tires

Pirelli Cinturato Gravel

Cockpit +*

Handlebar

ZIPP Service Course XPLR

Seatpost

ZIPP Service Course

Stem

ZIPP Service Course

Saddle

Selle Italia Model X

H-Bar Tape

FSA Ultracork Handlebar Tape
*Based on availability from our suppliers, some equivalent substitutions may occur.
On the hills it was snappy out of the saddle, and the handling on the flowy turns felt solid. The top impression the X3 demonstrates though is the smooth ride compliance it give over the rumble and bumps. Your one of a kind frame design lives up to your claims.
Scott Dayberry
Colorado Springs, CO
The bike is supple and stiff and handles beautifully, very impressive piece of work!
Hill Abell
Austin, TX
Has a feel like no other titanium bike. The much-lauded compliance of titanium is ever-present, soaking up road vibrations, but the X3 also brings razor-sharp handling and response to the party. Pressing on the pedals produces an immediate reaction, with acceleration like a kick in the pants and great torsional rigidity that counteracts it and ensures precise control.
Cycling Plus
X3 Review
I have been too busy riding it every day to put all my thoughts on paper but suffice to say I feel like the happiest guy in the world. The ride quality and solid performance of this incredible frame have surpassed all expectations. Everything about this bike is absolutely perfect.
Daniel Straus
Toronto, ON
Really sets itself apart from just about every other titanium gravel bike on the market today. The X3 can do it all.
Gravel Cyclist
X3 Review
Just completed a ride from Seattle to San Diego. I have loved my X3 the entire 1800 miles. No creaks, no problems and best of all, it's such a comfortable ride.
Brian Thompson
North Fremantle, Australia